6 Best Timepass Games to Play When Bored
Boredom can start when you find yourself stuck at home or during a holiday with nothing to do. To help pass the time, playing a few games is a great way to get your mind off of things and have some fun. If you're looking for entertainment, here is a list of the six best timepass games to play when bored. From classic board games to modern video games, you'll surely find something that fits your interests. Read on to learn more about these exciting activities!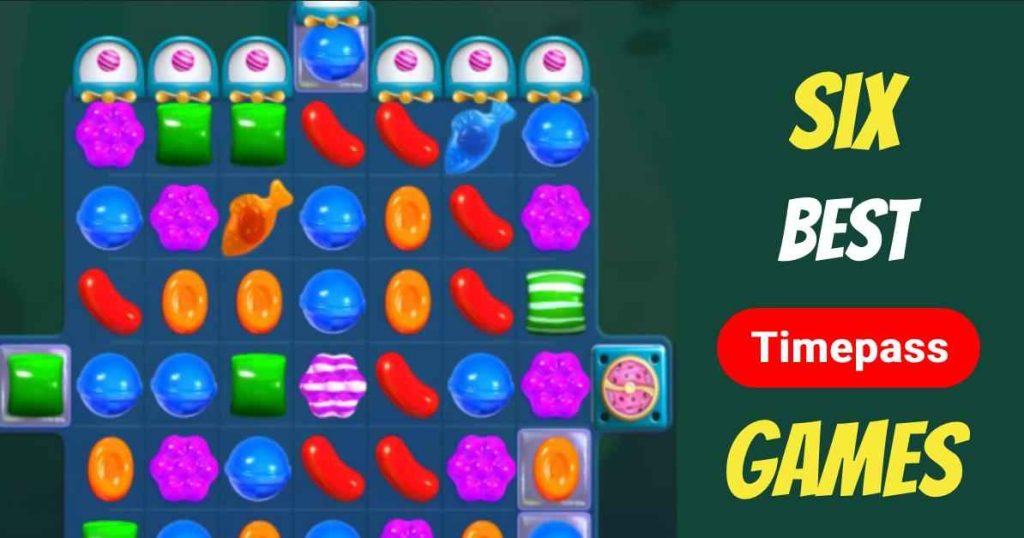 Geometry Dash
Geometry Dash is an incredibly popular game, and for a good reason! It's full of fun, fast-paced levels, and challenging obstacles. The game's premise is to jump and fly through different levels while avoiding many obstacles.
The longer you survive and progress, the higher your score. You can create your levels, which is great if you're looking for something more customized and suited to your interests.
There's also an online leaderboard to compare your scores with other players worldwide. If you're looking for a game that's both exciting and addictive, this is the one for you.
Geometry Dash Gameplay
Geometry Dash Gameplay is a fast-paced rhythm game where you navigate an obstacle course without hitting any objects. The game has several difficulty levels ranging from Easy to Insane, making it suitable for players of all ages.
The game also includes a level editor, which allows you to design your levels and share them with the community. The game's objective is to reach each level's end as quickly as possible while avoiding obstacles.
To make things more interesting, you can collect stars and unlock new characters or use power-ups that make the game easier. Each level also contains three secret coins, adding even more challenges for dedicated players. The fun never ends with this game, as there is always something new to try!
Rusty Lake series
The Rusty Lake series is a great way to pass the time when bored. This popular point-and-click adventure game takes you into the surreal world of Rusty Lake and its inhabitants. With its surreal atmosphere, puzzle-solving, and twisted story, this game will keep you entertained for hours.
Each game features a set of puzzles and objectives that require the player's skills and wit to solve. They all have a unique atmosphere and will keep you occupied for quite some time.
Whether you're looking for a light-hearted adventure game or a more mysterious and challenging experience, the Rusty Lake series will provide it.
Rusty Lake series gameplay
Rusty Lake series gameplay is a good choice if you're looking for a good time-passing game.
You'll be tasked with managing a hotel, gathering items, and solving puzzles. The games have unique visuals, mysterious storylines, and challenging puzzles that keep you entertained. The puzzle-solving part is interlocked; you must solve the last puzzle and get the corresponding props to use the props to deal with the next puzzle. Otherwise, you will be at a loss.
Whether you're a fan of puzzles, horror stories, or point-and-click adventures, this series has something for everyone. So if you're looking for a good time-passing game, you should check out the Rusty Lake series.
Doodle Jump
Doodle Jump is a popular game for both Android and iOS devices. You must help your character, the Doodler, jump from platform to platform to reach the highest point possible.
As the Doodler jumps higher, the platforms become increasingly difficult, with different enemies and objects like UFOs and rockets coming their way.
You must use your reflexes to tilt your device left or right to dodge the obstacles and collect power-ups that can help them jump higher and faster. The graphics of this game are simple yet vibrant, making it a great choice when you're bored. You can also compete against other players and climb up the global leaderboard. With no ads and plenty of replay value, Doodle Jump is definitely one of the best time-passing games out there!
Gameplay
Doodle Jump involves using the player's device as a controller. You move your character, Doodle the Doodler, up and across the screen by tilting your device left or right. As they move, they must jump onto platforms while avoiding enemies and collecting power-ups.
At the end of each level is a boss that must be defeated to progress. The ultimate goal of the game is to reach the highest possible score.
Every time you complete a level, you are rewarded with coins that can be used to purchase items like new characters and background themes. Overall, it's an addicting and fun game for people of all ages. It's a great way to pass the time when bored and is sure to keep you entertained!
Project: Muse
Project: Muse is a puzzle game that tests your creative thinking. In it, you must arrange different objects on the screen to solve each level.
You'll have hours of fun with various levels and objects while playing. It also features a time challenge mode that adds an extra layer of difficulty. If you're looking for an engaging and immersive puzzle game, Project: Muse is the way to go.
Gameplay
Project: Muse gameplay is an immersive puzzle game described as a "relaxing, mind-bending experience." In this game, you must solve puzzles to advance through levels by working with different objects and exploring the environment.
You also use creative problem-solving skills as you unlock new levels and progress further in the game. It's a great way to pass the time and exercise your brain. Plus, it's completely free to download.
Candy Crush
Candy Crush is an addictive game perfect for those looking for a little fun. It is incredibly easy to play and has hundreds of levels, so it will keep you busy for hours.
The game aims to match and remove colorful candy pieces from the board. To complete each level, you must reach a certain score within a given time.
This can be challenging but also very rewarding when you succeed. Each level gets increasingly more difficult, which is why many people become addicted. There are also daily missions that you can complete for extra points.
The game has beautiful graphics and fun sound effects, making it an enjoyable experience that can quickly pass the time. Candy Crush is an excellent choice if you're stuck in a waiting room or need something fun to do!
Candy Crush gameplay
Candy Crush gameplay is relatively straightforward, making it a great time-passing game for boredom. It involves making matches of at least three of the same type of candy on the board.
You do this by swapping two pieces at a time, aiming to match up four or five in a row, create a T or L shape, or create a wrapped candy.
Depending on the level and goal you are trying to achieve, you can earn more points by making more combos or special pieces. Each level has its own goals and difficulty, so as you progress in the game, the levels become more challenging.
It also offers boosters that you can use when needed, such as special moves and lollipop hammers. There's also a feature that gives you extra lives, but if you use all of your extra lives, you will have to wait a certain amount of time before you can play again.
Animal Restaurant
This restaurant simulator game puts you in charge of a cafe where you serve customers by creating dishes from various ingredients.
You can create your unique menu and customize your shop with various decorations. Various mini-games within the game provide an extra challenge as you try and make the perfect meal for each customer.
Animal Restaurant gameplay
The gameplay is incredibly addictive, and the bright colors and cute characters will keep you entertained for hours. Plus, you'll meet unique animal customers in the cafe! It's a great way to pass the time when you're bored and want something fun.
The gameplay gives you a unique experience and puts you in charge of a restaurant serving animals food. You can customize the look of your restaurants, choose the type of food they serve, and even manage your staff.
In addition, there are plenty of mini-games available to enjoy while managing your restaurant. Whether it's tending to customers or unlocking new recipes, you can always find something new and fun to do in Animal Restaurant.
Not only is this a great game for passing the time when bored, but it also provides you with a chance to flex your creative muscles and create a restaurant that is truly your own. The game also has a vibrant online community with helpful guides and tips, so you can always find help when needed.
Conclusion
Surely, boredom doesn't have to be an issue when you know the best games to play. There are various ways to pass the time, and any of the six games discussed can provide hours of entertainment. Whether you're looking for something single-player or something for a group, there is a game for everyone. The next time you feel bored, pick up one of these six games, and you'll surely have a great time. You might even come out on top with some luck and strategic planning!